Eric T. Schneiderman, the attorney general of New York, has come under increasing pressure from the Obama administration to drop his opposition to a wide-ranging state settlement with banks over dubious foreclosure practices, according to people briefed on discussions about the deal.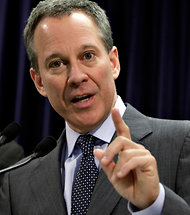 In recent weeks, Shaun Donovan, the secretary of Housing and Urban Development, and high-level Justice Department officials have been waging an intensifying campaign to try to persuade the attorney general to support the settlement, said the people briefed on the talks.
Mr. Schneiderman and top prosecutors in some other states have objected to the proposed settlement with major banks, saying it would restrict their ability to investigate and prosecute wrongdoing in a variety of areas, including the bundling of loans in mortgage securities.
But Mr. Donovan and others in the administration have been contacting not only Mr. Schneiderman but his allies, including consumer groups and advocates for borrowers, seeking help to secure the attorney generals participation in the deal, these people said. One recipient described the calls from Mr. Donovan, but asked not to be identified for fear of retaliation.
Not surprising, the large banks, which are eager to reach a settlement, have grown increasingly frustrated with Mr. Schneiderman. Bank officials recently discussed asking Mr. Donovan for help in changing the attorney generals mind, according to a person briefed on those talks.
In an interview on Friday, Mr. Donovan defended his discussions with the attorney general, saying they were motivated by a desire to speed up help for troubled homeowners. But he said he had not spoken to bank officials or their representatives about trying to persuade Mr. Schneiderman to get on board with the deal.
Eric and I agree on a tremendous amount here, Mr. Donovan said. The disagreement is around whether we should wait to settle and resolve the issues around the servicing practices for him and potentially other A.G.s and other federal agencies to complete investigations on the securitization side. He might argue that he has more leverage that way, but our view is we have the immediate opportunity to help a huge number of borrowers to stay in their homes, to help their neighborhoods and the housing market.
And Alisa Finelli, a spokeswoman for the Justice Department. said: The Justice Department, along with our federal agency partners and state attorneys general, are committed to achieving a resolution that will hold servicers accountable for the harm they have done consumers and bring billions of dollars of relief to struggling homeowners and bring relief swiftly because homeowners continue to suffer more each day that these issues are not resolved.
Terms of the possible settlement under consideration center on foreclosure improprieties like so-called robo-signing and submitting apparently forged documents to the courts to speed up the process of removing troubled borrowers from homes. Negotiations on this deal have been led by Thomas J. Perrelli, associate attorney general of the United States, and Tom Miller, the attorney general of Iowa.
An initial term sheet outlining a possible settlement emerged in March, with institutions including Bank of America, Citigroup, JPMorgan Chase and Wells Fargo being asked to pay about $20 billion that would go toward loan modifications and possibly counseling for homeowners.
In exchange, the attorneys general participating in the deal would have agreed to sign broad releases preventing them from bringing further litigation on matters relating to the improper bank practices.
The banks balked at the $20 billion figure. And the talks seemed to stall over the summer, as Mr. Schneiderman and a few other attorneys general Beau Biden of Delaware and Catherine Cortez Masto of Nevada, for example questioned aspects of the deal.
Mr. Schneiderman began objecting a few months ago to the proposed releases barring future litigation, declining to participate as long as they were included.
The attorney general remains concerned by any attempt at a global settlement that would shut down ongoing investigations of wrongdoing related to the mortgage crisis, said Danny Kanner, the spokesman for Mr. Schneiderman. His office has opened several inquiries into mortgage practices during the credit boom.