Our Firm
Contact Us And Ask About Our Economical Payment Plans For Small Businesses!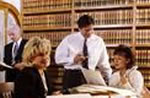 When it comes to matters of the law, you need well-rounded, hard-hitting representation from an experienced attorney who knows the ins and outs and subtle nuances of the law. Lawyers at The Nevarez Law Firm offer precisely that!
Our Firm affords clients extensive legal skill and experience in all small business matters.  The attorneys and lawyers at The Nevarez Law Firm will analyze your situation and provide you with a thorough assessment of your needs and options, and guide you and your business through the complexities of various legal matters, including the following:
Bankruptcy Law
Business Law
Commercial Litigation
Contract Law
Labor and Employment Law
Real Estate and Construction Law
White Collar Fraud Litigation
The Nevarez Law Firm represents clients in legal matters, in state and federal courts, in the County of El Paso, Texas, and throughout West Texas and New Mexico.  Possessing legal experience of more than thirty (30) years, our attorneys and lawyers advise and assist clients in legal matters and civil and commercial litigation related to bankruptcy and consumer law, business and contract law, labor and employment law, real estate and construction law, and in matters involving white collar fraud.  Visit us at any one of our three (3) locations in El Paso, Texas, or call us for a free 15 minute telephone consultation: (915) 584-8000.
Last modified on [insert_php] the_modified_date('F j, Y'); [/insert_php] at [insert_php] the_modified_date('g:i a'); [/insert_php]